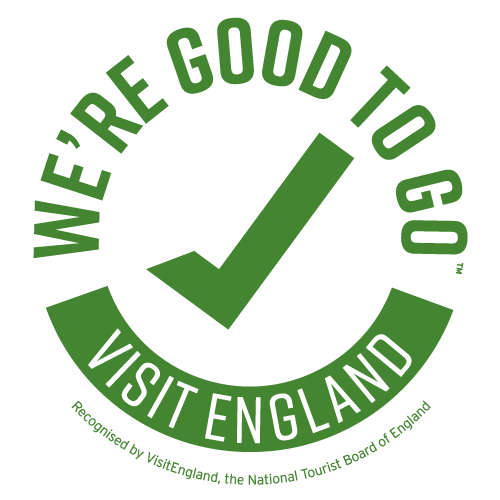 Taking COVID seriously
We've acquired the Industry Standard mark from the British Tourist Authority meaning we have followed government and industry COVID-19 guidelines, have a Risk Assessment in place and a process to maintain cleanliness and aid social distancing in our business
2 households can play together
"You can also meet in a group of 2 households (anyone in your support bubble counts as one household), in any location ‒ public or private, indoors or outdoors. This does not need to be the same household each time." - Government Guidance from 4th July 2020
You must wear a face covering when visiting
From the 8th August the government introduced a new legal requirement specifically for indoor activities including escape rooms. For us to operate legally customers MUST wear a face covering in order to enter our building and must continue to wear it until they have exited.
Some people are exempt from this requirement. Please check the government guidelines for exemptions.
According to the government guidelines, our staff our are not required to wear a face covering however we have given them the option to do so if they wish.
What we're doing:
Carried out a COVID-19 risk assessment and implemented measures to help minimise risk.
Changed our game timings to decrease the chance you'll cross paths with others.
We've updated our rigorous cleaning procedures, and are reviewing and adapting where necessary.
Remodeled our games and lobby spaces to decrease the risk of transmission.
What we need you to do:
Do not visit if anyone in your group have, or have recently, exhibited symptoms including a high temperature. View NHS info on symptoms.
Maintain a 2m distance between you and our staff. You're welcome to wear face coverings and gloves if you wish.
Wash your hands upon arrival and use alcohol gel as necessary.
Arrive at the right time to make sure you'll be seperate from other teams.
From the 8th of Aug it is the law for you to wear a mark during your visit.